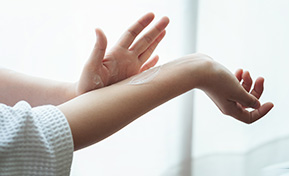 Using BHRT Creams
At Improving Your Health, Dr. Rubin helps you choose the BHRT method that is right for you. Hormone creams are an effective tool that allows the proper dose of hormones to be absorbed through the skin and into the bloodstream to relieve symptoms of hormone imbalance.
Hormone levels are first tested to develop a customized cream to balance your hormones. The actual amount of hormone that enters the bloodstream will vary – depending on the method used to prepare the cream and the amount of cream applied to the skin. Each individual will absorb hormone creams differently, but it is simple to adjust how much you apply or adjust the formula.
Hormone creams are typically applied to the arms. Frequency of application will vary among individual patients.
If you'd like to consider using BHRT creams for hormonal imbalance, call either of our offices or book online today: