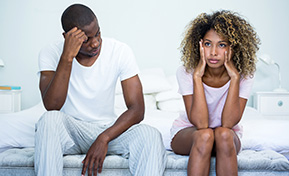 Sometimes sexual function is impacted because of a condition known as Limited Sexual Pleasure. Other times, sexual function is fine, but you just don't experience the pleasure you once enjoyed. Or maybe you've never experienced much sensation sexually. it can be caused by medical conditions – like diabetes - that affect nerve function and sensitivity in your penis or vagina. It could also be injury-related or due to a hormonal imbalance that effects your level of response to sexual stimulation.
There can also be psychological or emotional roots to Limited Sexual Pleasure – from a history of sexual abuse or assault to a recent divorce, or even pregnancy. The role of stress also cannot be underestimated.
At Improving Your Health, Dr. Rubin practices functional medicine, with a particular specialty in Sexual Health, addressing sexual issues at the root level. Beginning with a thorough medical history that reviews your sexual symptoms, Dr. Rubin uses advanced treatment methods ranging from bioidentical hormone replacement therapy to P-shots.
If you've heard about the success of our Sexual Wellness Program or other successful treatments for sexual dysfunction, call either of our offices or book online today:
Naples Office (239) 977-9220
Tampa Office (813) 499-1440