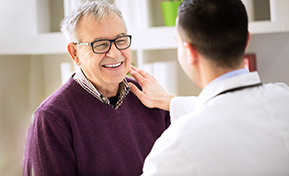 Once considered a natural consequence of aging, erectile dysfunction (ED) now affects up to 30 percent of men under 40. By 2025, over 320 million men worldwide are projected to suffer from ED. Fortunately, options to treat ED are increasingly available. Shockwave Therapy (SWT) is one of the newer, more effective methods we offer at Improving Your Health.
As a treatment for wound healing, Shockwave Therapy has been used in many applications over the years to speed up tissue repair and cell growth. A non-invasive treatment that triggers a natural healing response, Shockwave Therapy releases growth factors and has traditionally used in orthopedic settings to relieve pain and treat injuries to bone, tendons, ligaments, and other soft tissues, Shockwave Therapy, it has been discovered, can have a similarly powerful impact on male sexual function.
Shockwave Therapy is one more effective tool is our toolkit to optimize male sexuality. To embark on a personalized functional medicine journey into the natural, healthy sexual function that your body is designed to enjoy, call either of our offices or book online today:
What is Shockwave Therapy?
Also known as low-intensity extracorporeal shock wave therapy (LI-ESWT), Shockwave Therapy is a treatment for erectile dysfunction. Unlike other ED treatment options, Shockwave Therapy is unique in that it aims to heal and restore the natural erectile mechanism in order to enable spontaneous erections. With Shockwave Therapy, pressure from targeted sound waves cause controlled micro-injuries to the penis, triggering a healing response.
What should I expect from a sexual health consultation?
Dr. Rubin always begins with a functional evaluation of your body and your individual health profile. A sexual health consultation includes looking at all aspects of how your body is functioning – from your hormonal balance to your sexual performance issues. Dr. Rubin then works with each patient to create an individualized medical plan tailored to your sexual health goals.
Our functional medicine approach means the goal is understanding the root cause of any sexual issues you may be experiencing, as opposed to simply treating symptoms. With a holistic approach to sexual health, we prioritize long-lasting health, not just short-term results.
At Improving Your Health, Dr. Rubin creates personalized plans based on each client's unique assessment. He recognizes the nuanced differences among his clients, with the understanding that no two treatment plans should ever be the same – because every man is different.
Not all cases of erectile dysfunction are appropriate for Shockwave Therapy, including cases where ED is caused by:
psychological issues such as low self-esteem
nerve damage
cancer treatments or surgery
If our Shockwave Therapy protocol at Improving Your Health is right for you, it may simply include SWT alone, or it could involve a variety of other approaches to maximize results. From nutritional supplements to acupuncture or medical weight loss, our goal is always to maximize sexual function and treat underlying causes of your sexual challenges. If sexual hormone imbalances are impacting your sexual function, Bioidentical Hormone Replacement Therapy (BHRT) may be advisable.
You and Dr. Rubin will explore the results of your tests and consider all of your options together.
Benefits of Shockwave Therapy
There is increased interest in regenerative therapies for erectile dysfunction, therapies that can restore penile tissue to "cure" erectile dysfunction – rather than simply treating it.
Benefits of Shockwave Therapy include:
Increasing frequency of spontaneous erections
Increasing penile blood flow
Stimulating the release of growth factors, resulting in the generation of new blood vessels in the penis
Breaking up plaque formation in existing blood vessels
Activation of dormant stem cells, triggering new cell growth
Lasting erectile function, up to 2 years or longer in mild or moderate cases of ED
Drug-free, non-toxic, low-risk procedure that achieves healing naturally
Non-surgical, outpatient procedure that can be performed in our offices
How does Shockwave Therapy work?
To stimulate rejuvenation of the tissue in the penis and restore its sexual function, Shockwave Therapy causes micro-injury to the penis that stimulates nerve regeneration, stem cell proliferation and angiogenesis, which is the development of new blood vessels.
During Shockwave Therapy, Dr. Rubin will wave a soundwave-generating tool over the penis to deliver low-intensity sound waves to the affected area. Each session lasts roughly 15 minutes, with the majority of patients not reporting any pain at all.
How many Shockwave Therapy treatments are needed?
Studies have shown that patients can experience greater sexual performance from 12 sessions twice per week compared with 6 sessions once a week. Shockwave therapy can be repeated up to a total of 18 sessions. Follow-up treatments at six months may prove even more beneficial.
How long do the effects of Shockwave Therapy last?
Mild to moderate cases of erectile dysfunction still show improvement after two years. However, severe ED (especially in cases where diabetes is involved) are less likely to still show improvement. It is important to continue monitoring and treating medical conditions like diabetes that may be underlying erectile dysfunction.
Regular consultations at Improving Your Health to maintain your sexual health are essential, especially if you begin to notice reduced erectile dysfunction over time, so that your condition can be evaluated, and next steps can be taken in a timely manner.
About Dr. Rubin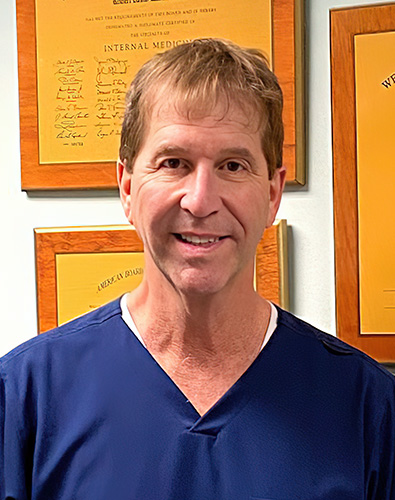 Dr. Rubin is a widely respected functional medicine practitioner in Florida with offices in Naples and Tampa. He has extensive experience in men's health and treating patients who are struggling with sexual health issues.
An Advanced Fellow in the American Academy of Anti-Aging Medicine, AMA Board Certified in Internal Medicine and Geriatrics Medicine, Dr. Rubin is a dedicated medical professional with an exceptional track record. He spent the first 25 years of his medical career working in internal and geriatric medicine, successfully becoming one of Palm Beach County's top-rated physicians. For four years, Castle Connolly Medical, Ltd. recognized him as one of the "Top Doctors" in South Florida.
After further specialized training, he shifted his practice to a functional medicine approach to better serve the needs of his patients. Over the last 15 years, Dr. Rubin has honed his focus creating a practice rooted in evidence-based healthcare that addresses the root causes of your symptoms.
Combining this with his expertise in Internal Medicine and Geriatrics, he provides a comprehensive approach to your health. Listening attentively to your concerns, Dr. Rubin personalizes a treatment protocol to meet your needs, guiding you confidently on your journey into sexual health – at any age.
Dr. Rubin takes an individualized approach to treatment, recognizing that each patient has a different medical history, symptoms, and underlying issues.
Request your consultation today!
Contact us today at either of our two locations to begin your journey into full sexual pleasure with a personal consultation to explore Shockwave Therapy for erectile dysfunction. You can also learn more about our convenient telemedicine options for all of your health needs in Palm Beach, Broward and across the state of Florida!