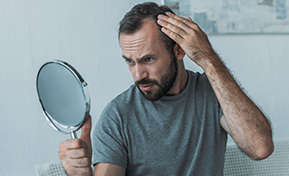 Using PRP Shots to Address Hair Loss
PRP not only accelerates your body's ability to heal and regrow tissue, but it has also shown success in regrowing hair. PRP therapy involves injecting you with a concentration of platelets sourced from your blood. PRP injections can be effective in treating hair loss that naturally occurs from aging, as well as genetic hair loss conditions like male pattern baldness. Growth factors in PRP stimulate the growth of new hair follicles, while also improving the health of existing follicles to prevent hair loss. PRP can also help stimulate hair growth after hair transplants.
One of the benefits of PRP injections for hair loss is its exceptional safety profile, with little to no risk of complications or side effects. Because PRP stimulates the growth of your hair, you can expect natural-looking results that can begin to be apparent from the first treatment - and only increase with each passing month.
If you've heard about the success of PRP shots for hair loss, call either of our offices or book online today: