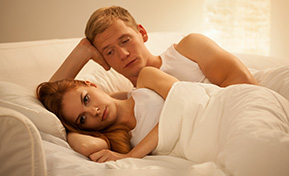 Low Libido impacts as many as 20 percent of men – and even more women. It's normally linked to a temporary episode of stress or life-changing experiences like pregnancy and childbirth. But when your loss of sex drive isn't temporary or keeps recurring, there can be more complex medical or emotional issues at play that may need to be addressed.
At Improving Your Health, Dr. Rubin practices functional medicine, with a particular specialty in Sexual Health, addressing sexual issues at the root level. Beginning with a thorough medical history that reviews your sexual symptoms, Dr. Rubin uses advanced treatment methods from bioidentical hormone replacement therapy to a full sexual wellness program.
If Low Libido is a problem that concerns you or affects your relationship, it might be time to explore the underlying causes and what treatment options are available.
If you'd like to be evaluated for Low Libido and are ready to explore your treatment options, call either of our offices or book online today:
Naples Office (239) 977-9220
Tampa Office (813) 499-1440